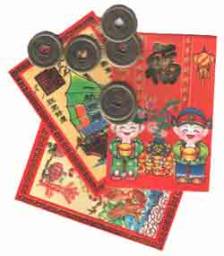 New Year Customs
The Chinese New Year celebrations are marked by visits to kin, relatives and friends, a practice known as "new-year visits" (Chinese: 拜年; pinyin: bàinián). New clothings are usually worn to signify a new year. The colour red is liberally used in all decorations. Red packets are given to juniors and children by the married and elders. See Symbolism below for more explanation.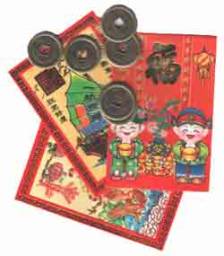 All these festivities may vary from region to region and from family to family.
Chunyun (春運)
The period around Chinese New Year is also the time of the largest human migration, when migrant workers in China, as well as overseas Chinese around the world travel home to have reunion dinners with their families on Chinese New Year's eve. More interurban trips are taken in mainland China in this 40-day period than the total population of China.
Clothing
Clothing mainly featuring the colour red is commonly worn throughout the Chinese New Year because it is believed that red will scare away evil spirits and bad fortune. In addition, people typically wear new clothes from head to toe to symbolize a new beginning in the new year.
Fireworks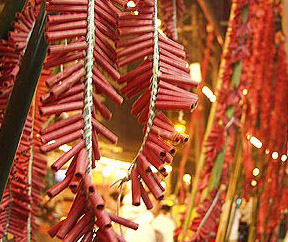 Bamboo stems filled with gunpowder that were burnt to create small explosions were once used in ancient China to drive away evil spirits. In modern times, this method has eventually evolved into the use of firecrackers during the festive season. Firecrackers are usually strung on a long fused string so it can be hung down. Each firecracker is rolled up in red papers, as red is auspicious, with gunpowders in its core. Once ignited, the firecracker lets out a loud popping noise and as they are usually strung together by the hundreds, the firecrackers are known for its deafening explosions that it is thought to scare away evil spirits. See also Myths above. The lighting of firecrackers also signifies a joyous occasion and has become an integral aspect of Chinese New Year celebrations.
Red packets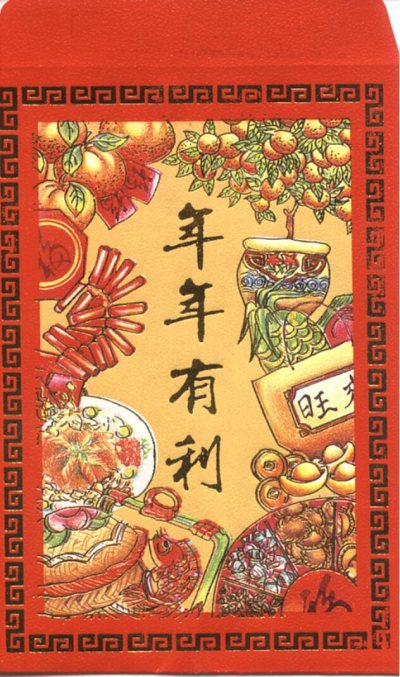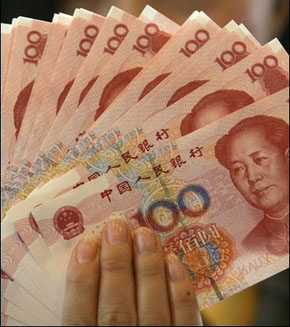 Traditionally, Red envelopes or red packets (Cantonese: lai shi or lai see) (利是, 利市 or 利事); (Mandarin: 'hóng bāo' (紅包); Hokkien: 'ang pow' (POJ: âng-pau); Hakka: 'fung bao'; are passed out during the Chinese New Year's celebrations, from married couples or the elderly to unmarried juniors. It is common for adults to give red packets to children. Red packets are also known as 壓歲錢/压岁钱 (Ya Sui Qian, which was evolved from 壓祟錢/压祟钱, literally, the money used to suppress or put down the evil spirit ) during this period.
The red envelopes always contain money, usually varying from a couple of dollars to several hundred. The amount of money in the red packets should be of even numbers, as odd numbers are associated with cash given during funerals (帛金 : Bai Jin). Since the number 4 is considered bad luck, because the word for four is a homophone for death, money in the red envelopes never adds up to $4. However, the number 8 is considered lucky (for its homophone for "wealth"), and $8 is commonly found in the red envelopes. Sometimes chocolate coins are found in the red packets.
Note: in this situation, odd and even numbers are determined by the first digit, rather than the last. Thirty and fifty, for example, are odd numbers, and are thus appropriate as funeral cash gifts. Having said that, it is also more common and quite acceptable to have cash gifts in a red packet using a single bank note — e.g. ten or fifty yuan bills are being used frequently.
The act of requesting for red packets is normally called (Mandarin): 討紅包, 要利是. (Cantonese):逗利是. A married person could not turn down such request as it means that this person would be "out of luck" in the new year (無利是)
Ref: wikipedia.com