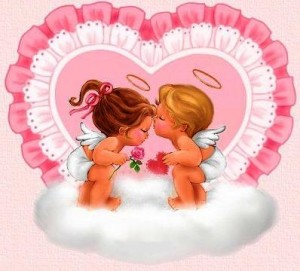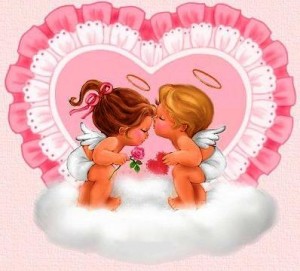 Valentine's Day is a holiday celebrated on February 14. It is the traditional day on which lovers express their love for each other; sending Valentine's cards, or offering candy. It is very common to present flowers on Valentine's Day. The holiday is named after two among the numerous Early Christian martyrs named Valentine. The day became associated with romantic love in the circle of Geoffrey Chaucer in High Middle Ages, when the tradition of courtly love flourished.
The day is most closely associated with the mutual exchange of love notes in the form of "valentines." Modern Valentine symbols include the heart-shaped outline and the figure of the winged Cupid. Since the 19th century, handwritten notes have largely given way to mass-produced greeting cards. The mid-nineteenth century Valentine's Day trade was a harbinger of further commercialized holidays in the United States to follow. The U.S. Greeting Card Association estimates that approximately one billion valentines are sent each year worldwide, making the day the second largest card-sending holiday of the year behind Christmas. The association estimates that women purchase approximately 85 percent of all valentines.
The evolving legend
The Early Medieval acta of either Saint Valentine were excerpted by Bede and briefly expounded in Legenda Aurea, According to that version, St Valentine was persecuted as a Christian and interrogated by Roman Emperor Claudius II in person. Claudius was impressed by Valentine and had a discussion with him, attempting to get him to convert to Roman paganism in order to save his life. Valentine refused and tried to convert Claudius to Christianity instead. Because of this, he was executed. Before his execution, he is reported to have performed a miracle by healing the blind daughter of his jailer.
Legenda Aurea still providing no connections whatsoever with sentimental love, appropriate lore has been embroidered in modern times to portray Valentine as a priest who refused an unattested law attributed to Roman Emperor Claudius II, allegedly ordering that young men remain single. The Emperor supposedly did this to grow his army, believing that married men did not make for good soldiers. The priest Valentine, however, secretly performed marriage ceremonies for young men. When Claudius found out about this, he had Valentine arrested and thrown in jail. In an embellishment to The Golden Legend, on the evening before Valentine was to be executed, he wrote the first "valentine" himself, addressed to a young girl variously identified as his beloved, as the jailer's daughter whom he had befriended and healed, or both. It was a note that read "From your Valentine."