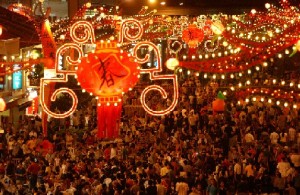 Origin of the New Year parades
In 1849, with the discovery of gold and the ensuing California Gold Rush, over 50,000 people had come to San Francisco to seek their fortune or just a better way of life. Among those were many Chinese, who had come to work in the gold mines and on the railroad.
By the 1860's, the Chinese were eager to share their culture with those who were unfamiliar with it. They chose to showcase their culture by using a favorite American tradition — the Parade. Nothing like it had ever been done in their native China. They invited a variety of other groups from the city to participate, and they marched down what today are Grant Avenue and Kearny Street carrying colourful flags, banners, lanterns, and drums and firecrackers to drive away evil spirits.
CNY is widely celebrated among Chinese communities and particularly across Asian countries with dense Chinese populations. Malaysia, Singapore and Thailand are buzzing with activity during this time and visitors can enjoy the many lion dances, street parades, firecracker explosions and – or course – abundance of food available in each country's respective Chinatown.
Today, Chinese New Year parades are annual traditions across North America in cities with significant Chinese populations. Among the cities with such parades are San Francisco, Los Angeles, New York City, and Vancouver, British Columbia. However, even smaller cities that are historically connected to Chinese immigration, such as Butte, Montana, have recently hosted parades.
Ref: wikipedia
Lunar New Year in Taiwan