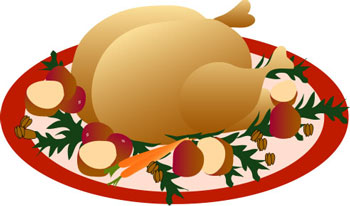 Buying and Thawing a Turkey Tips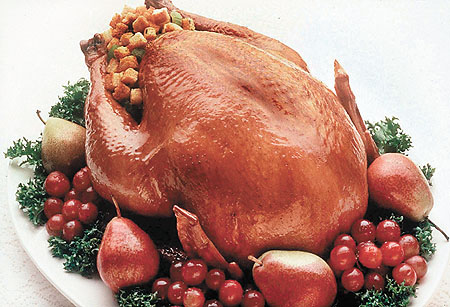 Buying a Turkey
Things to think about:
1. Size. Count on 1 to 1 ½ pounds of turkey for each guest, depending on whether you want plenty of leftovers or just a few. You can also choose to buy two medium-sized turkeys rather than one giant one, to cut the cooking time. This also allows you to cut one turkey for serving while the whole bird is displayed on the table.
2. Fresh or Frozen? This depends on your needs. A fresh turkey costs more but doesn't need thawing. Some butchers also offer "heritage" breeds of turkey. (You should buy it no more than one or two days ahead of time as it's best to order in advance from your butcher or grocery store meat department). Frozen turkeys are less expensive and available year-round, but must be thawed before cooking.
Thawing a Turkey
Two safe methods for thawing:
1. In the refrigerator. This is the preferred method, but can be difficult to arrange with a fully stocked fridge. Clear some space and allow one day for every 5 pounds of meat: a 15-pound turkey will require three days to thaw thoroughly.
2. Submerged in cold water. Using your sink or a bucket, keep the turkey in its original wrapper and make sure it is completely covered with cold water. You may need to cover the turkey with a plate and place some heavy cans on top of it to keep it totally submerged. It is vital for the sake of safety that you change the cold water every 30 minutes. Using this method, it will take approximately 30 minutes per pound to thaw a turkey.
It is also possible to use a combination of the two methods–use the fridge for the first two days of thawing, and the sink on the day before Thanksgiving, when the refrigerator fills up with other holiday dishes.
Turkey Burritos

PREP TIME 5 Min
COOK TIME 20 Min
READY IN 25 Min
Original recipe yield 6 burritos
For 6 Servings
INGREDIENTS (Nutrition)
* 1 pound ground turkey
* 2 (7 ounce) cans hot tomato sauce
* 1 (15.25 ounce) can whole kernel corn, drained
* 1/2 small onion, diced
* 1 (16 ounce) can fat-free refried beans
* 1 (16 ounce) container fat free sour cream
* 3/4 cup shredded reduced-fat Cheddar cheese
* 6 (10 inch) flour tortillas
DIRECTIONS
1. In a large skillet over medium high heat, brown ground turkey. Stir in tomato sauce, corn and onion. Reduce heat to medium and let simmer, stirring occasionally, until liquids reduce (about 20 minutes).
2. In a separate medium skillet, heat beans over medium-low heat. Prepare sour cream and cheese for sprinkling into burritos. One by one, heat tortillas over stove burner for 1 to 2 minutes, flipping a few times. Top with beans, then meat mixture, then sour cream and cheese. Fold over and serve while still warm.
Southwestern Turkey Casserole

For 8 Servings
INGREDIENTS (Nutrition)
* 1 (10.75 ounce) can condensed cream of chicken soup
* 1 (10.75 ounce) can condensed cream of mushroom soup
* 1 (7 ounce) can diced green chile peppers, drained
* 1 cup sour cream
* 16 (6 inch) corn tortillas, cut into strips
* 10 ounces cooked turkey, diced
* 8 ounces shredded Cheddar cheese
DIRECTIONS
1. Preheat oven to 350 degrees F (175 degrees C).
2. In a mixing bowl, combine the chicken soup, mushroom soup, chile peppers and sour cream.
3. Line the bottom of a 9×13 inch baking pan with corn tortillas. Follow with a layer of turkey. Pour soup mixture over turkey, sprinkle with 1/2 of the cheese. Repeat layers and top with cheddar cheese. Bake for 30 to 45 minutes or until cheese is browned and bubbly.
Smoked Turkey Tortilla Wraps

PREP TIME 10 Min
COOK TIME 10 Min
READY IN 20 Min
For 10 Servings
INGREDIENTS (Nutrition)
* 10 whole wheat flour tortillas
* 10 slices smoked turkey, cut into thin strips
* 1 avocado – peeled, pitted and sliced
* 1/2 cup sour cream, for topping
* 1/2 cup Cheddar cheese
DIRECTIONS
Heat flour tortillas in a large skillet over medium heat until slightly browned. Divide turkey strips, avocado, sour cream, and cheese among the warmed tortillas. Fold in half and serve.
Turkey Stuffing Divan

PREP TIME 10 Min
COOK TIME 30 Min
READY IN 40 Min
For 6 Servings
INGREDIENTS (Nutrition)
* 1 1/4 cups boiling water
* 4 tablespoons butter or margarine
* 4 cups Pepperidge Farm? Herb Seasoned Stuffing
* 2 cups cooked broccoli cuts
* 2 cups cubed cooked turkey or chicken
* 1 (10.75 ounce) can Campbell's? Condensed Cream of Celery Soup (Regular or 98% Fat Free)
* 1/2 cup milk
* 1 cup shredded Cheddar cheese
DIRECTIONS
1. Mix water and butter. Add stuffing. Mix lightly.
2. Spoon into 2-quart shallow baking dish. Top with broccoli and turkey.
3. Mix soup, milk and 1/2 cup cheese and pour over all. Sprinkle with remaining cheese.
4. Bake at 350 degrees F for 30 minutes or until hot.
Tips: For 2 cups cubed cooked chicken, in medium saucepan over medium heat, in 4 cups boiling water, cook 1 pound boneless chicken breasts or thighs, cubed, 5 minutes or until chicken is done.
Rosemary Roasted Turkey

PREP TIME 25 Min
COOK TIME 4 Hrs
READY IN 4 Hrs 45 Min
Original recipe yield 1 (12 pound) turkey
INGREDIENTS (Nutrition)
* 3/4 cup olive oil
* 3 tablespoons minced garlic
* 2 tablespoons chopped fresh rosemary
* 1 tablespoon chopped fresh basil
* 1 tablespoon Italian seasoning
* 1 teaspoon ground black pepper
* salt to taste
* 1 (12 pound) whole turkey
DIRECTIONS
1. Preheat oven to 325 degrees F (165 degrees C).
2. In a small bowl, mix the olive oil, garlic, rosemary, basil, Italian seasoning, black pepper and salt. Set aside.
3. Wash the turkey inside and out; pat dry. Remove any large fat deposits. Loosen the skin from the breast. This is done by slowly working your fingers between the breast and the skin. Work it loose to the end of the drumstick, being careful not to tear the skin.
4. Using your hand, spread a generous amount of the rosemary mixture under the breast skin and down the thigh and leg. Rub the remainder of the rosemary mixture over the outside of the breast. Use toothpicks to seal skin over any exposed breast meat.
5. Place the turkey on a rack in a roasting pan. Add about 1/4 inch of water to the bottom of the pan. Roast in the preheated oven 3 to 4 hours, or until the internal temperature of the bird reaches 180 degrees F (80 degrees c)
Turkey 'n' Stuffing Pie

PREP TIME 30 Min
READY IN 30 Min
For 4 Servings
INGREDIENTS
* 1 egg, beaten
* 1 cup chicken broth
* 1/3 cup butter or margarine, melted
* 5 cups herb-seasoned stuffing
* FILLING:
* 1 (4 ounce) can mushroom stems and pieces, drained
* 1/2 cup chopped onion
* 1 tablespoon butter or margarine
* 1 tablespoon all-purpose flour
* 3 cups cubed cooked turkey
* 1 cup frozen peas
* 1 tablespoon minced fresh parsley
* 1 teaspoon Worcestershire sauce
* 1/2 teaspoon dried thyme
* 1 (12 ounce) jar turkey gravy
* 5 slices processed American cheese, cut into strips
DIRECTIONS
In a large bowl, combine the egg, broth and butter. Add stuffing; mix well. Pat onto the bottom and up the sides of a greased 9-in. pie plate; set aside. In a skillet, saute mushrooms and onion in butter until tender. Sprinkle with flour; mix well. Add the turkey, peas, parsley, Worcestershire sauce and thyme; mix well. Stir in gravy. Bring to a boil; boil and stir for 2 minutes. Spoon into the crust. Bake at 375 degrees F for 20 minutes. Arrange cheese strips in a lattice pattern over filling. Bake 5-10 minutes longer or until the cheese is melted.
Ref: allrecipes.com