Natural Foot Inserts Shoe Pads DEODORIZING INSOLES Remove Foot Odor No Synthetic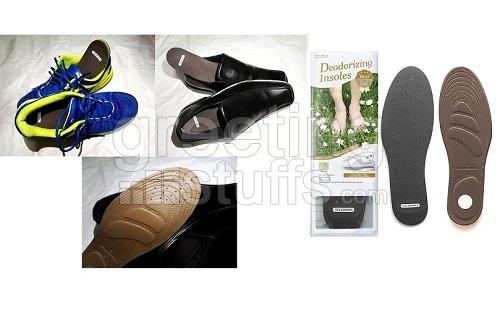 Natural Foot Inserts Shoe Pads DEODORIZING INSOLES
1 pair of insoles (Thicker 4.5 mm) –> Random Color (Black, Gray, Brown)
100% brand new in package with high quality
Not wet like spray. Long lasting fragrance
Great for using when sports, office working, etc.
Able to trim / cut to size that you want
* Fit All Shoe Types Both For Men & Women
– Anti-Bacteria
– Washable
– Breathable
– Keep your feet healthy & fresh with pleasure fragrance
Deodorant insoles make you feel confident in every pace, even when having to take shoes off
Made of natural latex foam, the insoles are soft, comfortable, and can be re-used over and over.
Wash with soap and water and dry in the shade.
– Made of natural rubber (latex foam) durable, lasting over 60 days.
– Help sweat absorption and provides a comfortable air circulation.
– Fresh scent.
– All natural
– No synthetic
– Natural soft
– Long-lasting
– Flexible